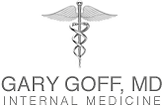 Neuromodulation Dallas, PLLC.
Dr. Gary Goff, M.D.
8440 Walnut Hill Lane
Prof Bldg #4, Suite 420
Dallas, TX 75231
214-879-9966
www.garygoffmd.com
Delivering prompt, compassionate treatment for over 17 years, Dr. Gary Goff is a board-certified internist serving North Texas families. Dr. Goff is one of few primary care physicians still providing patients with full care at all stages
of the medical journey: from office to hospital or nursing facility and home again. Along with concierge services and comprehensive practice hours, Dr. Goff guarantees quality healthcare when and where you need it.
As a primary care physician, Dr. Goff is an expert in diagnostics, treatment and prevention. Dr. Goff has completed years of rigorous training in the study of common illnesses, chronic conditions, cardiac health, cancer, diabetes, preventative medicine, and more. He is a leading primary care physician in the Dallas area, and his team of professionals are committed to delivering a personalized healthcare experience that leads to long-term patient relationships.